Newcastle 4-4 Arsenal
By: Daniel | February 5th, 2011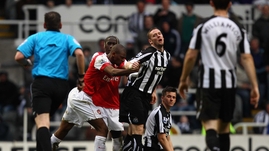 Some how, Newcastle United completed a Premier League first today in coming back from 4 goals down to draw 4-4″ with a rattled Arsenal side.
Goals from Joey Barton (Pen x2), Leon Best, and finally a fabulous strike from my man of the match Cheik Tiote in the 87th minute sealed the draw for Newcastle.
Newcastle got off to the worst start possible when Theo Walcott broke through and he would not be caught as he slid the ball past Steve Harper with only 45 second gone.
It got worst for United when a free kick was headed home from Johan Djourou on the third minute mark and many knew we were in for a long day.
Joey Barton then went close with a long ranged effort but it was once again the Arsenal who would strike when Van Persie made it 3-0 after 10 minutes when he powerfully struck home a Theo Walcott cross.
St. James was then sent into disbelief in the 26th minute when Van Persie doubled his tally and put Arsenal 4-0 up. Little did many know that St. James would be in more disbelief later on in the day.
That's how it ended after the first half with United leaving the field to a chorus of boo's and a few fickle fans leaving the game at half time. Ridiculous.
Second half arrived and Newcastle looked as though they had something about them and looked a lot more potent in front of goal. Chances came and went for Williamson, Best and Nolan but the real turning point in the game came on the 50th minute when Diaby was correctly send off for initially grabbing Joey Barton by the kneck and throwing him down to the ground and then have a forceful push at Kevin Nolan which sealed his fate.
In his post match press conference Wenger states that Joey Barton should have been sent off for his initial challenge. Personally, if that was a sending off then Cheik Tiote didn't score a 87th minute volley to win the game. Ridiculous excuses from Wenger, which he makes far to often. Its okay, I guess his young, talented side will finally develop into a great side next year huh?
After this, United had a period of time when they went close. Mike Williamson continued to cause havoc from corners and we looked dangerous. However, Arsenal then got a hold of the ball and started passing it about and it looked as though the game would fizzle out to a 4-0 victory for Arsenal.
Hold up, wait a minute. Leon Best gets fouled? Joey Barton steps up, 4-1. Ah well, least were winning the second half.
7 minutes passed until Leon Best got his fourth goal of the season to make it 4-2 on the 75 minute. By this point, the hole of St. James was fully enjoying the game and I was pleased we had a bit of momentum and would hopefully salvage some pride.
Fast forward to the 83rd minute and Mike Williamson is fouled in the box and United are given a dubious penalty. Joey Barton keep's his cool and just, and boy do I just mean just, slots the penalty down the middle of the goal and to the disbelief to every person in Newcastle its 4-3.
The atmosphere at this point is second only to the 5-1 drubbing of Sunderland in October. The minutes keep
ticking, and then in the 87th minute, a free kick is given and Joey Barton trots over to take it. As the ball is whipped in, hearts are in mouths, the tension is unbearable. Then the ball is cleared. Ah.
To Cheik Tiote! Who for all of his Newcastle United career i've only every had one problem with. That's his shooting. Who sweetly catches a into the bottom corner to send the footballing world, expect a pocket of North London, into hysteria. If your yet to see the goal. Wow, your in for a treat.
Some tense few moments were left, however, We looked more likely to get the winner that Arsenal after good hold up play from Nile Ranger left Kevin Nolan to send his half volley inches wide.
The emotional scene's at the end were brilliant. Danny Simpson had head in hands. Kevin Nolan throws his bottle on the floor in elation and then goes and hugs the coaching staff. By hug I mean a very physical hug too.
Today, every man, woman and pet can be proud of Newcastle United. To quote a certain Alan Pardew. "Character" and more than I've ever saw in any other Newcastle team. Brilliant.

Category:
Previews and Reviews
Comments